Professional Invoices

that can be printed or emailed in batch
Invoicing the way you want.  Create invoices associated with time records, or invoice without time records.  Leverage Quickbooks with the power and simplicity of Mango Billing using our practice management tools.
Let us show you how.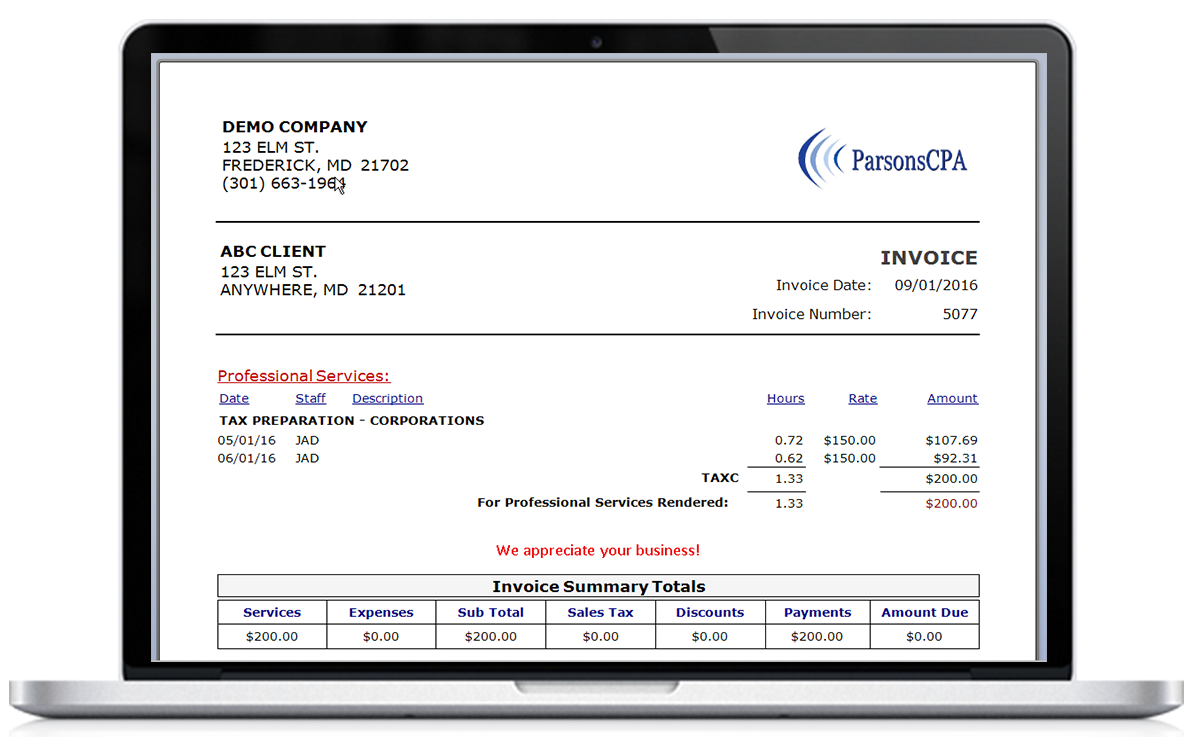 Speed Up Your
Billing & Invoicing
Multiple professional-looking templates that can be custom branded with your logo.
Manual Invoicing
Take complete control of invoice line items that you want your client to see on the invoice in a narrative style format.  Apply discounts and apply payments while invoicing.
Batch Invoicing
Click and create many invoices quickly.  Fixed Fee invoicing will automatically adjust Write Up/Down.  Ability to override fixed fee amount. Filter time and expense records based on your criteria.
Recurring Invoicing
Bill the same amounts every period.  No problem.  Recurring invoicing will speed up the invoicing process.  Optionally release time records based on a bill through date.  Time records are not required.
Manual Invoicing
(Click image to enlarge)
Flexible Billing
Set Invoice Formats, Discounts, Print or Email Actions and control which Engagements to invoice based on cut-off dates.
Invoice With or Without Time Records
Not tracking time, no problem.  You can still produce professional looking invoices.
Invoice for Time and Expenses
Drill-down on time and expense records and optionally select records.  Write-Up/Down is automatically calculated by Engagement.
Batch Invoicing
(Click image to enlarge)
Automated Invoicing
This is the fastest way to generate invoices.  Flexibility to generate Narrative style invoices in case you do not want a Detail style format.
Filter Time & Expense Records
Filter records based on a cut-off date or by Engagement.  Select Process Invoices and 100's of invoices are generated in seconds!
Recurring Invoicing
(Click image to enlarge)
Simple Recurring Invoicing
Quickly generate invoices, in batch, for a given period with the flexibility to release time records if required.  Time records are not required for Recurring Invoicing.  Dates are automatically incremented based on Frequency.
Filter Invoices for Billing
Select by Engagement, or any other criteria to quickly invoices!
Invoice Review
(Click image to enlarge)
Final Stage for Invoicing
Invoices can be previewed, Invoice Templates changed and the final action can be changed.  When invoices are finalized, they are either printed, emailed or simply finalized.
Action Options
Preview time and expense records associated to an invoice.   Optionally reverse an invoice and all time and expenses will return to an unbilled status.
Features that will change
the way you manage your business
Invoicing
Professionally designed invoices. Print or Email in batch.
Time Tracking
4 easy-to-use tools to track time better and STOP giving away time!
Engagements
Gain valuable insights to managing your practice and boost performance.
Reports Center
Practice management reports to analyze better performance better.
Scheduling
Firm-wide scheduling with email notifications. Google and Outlook integrations.
Dashboards
Dashboards that boost productivity and tell a story. Key information at a glance.
Client Portal
Let clients pay at their convenience. Share documents with clients.
Documents
Securely store documents and share with your clients. Email notifications.
Due Dates
The ultimate in Due Date Management. Never miss a deadline again!
Client CRM
Get a 360 degree view of all your client information. Find what you need quickly!
We do invoicing.  Try a better solution!

2021 Mango Billing, Inc. "Mango Billing" is a registered trademark.